Steve Hannagan at the founding of the Quiet Birdmen
Steve Hannagan found himself at an early meeting of the Quiet Birdmen, a club of twenty aviators many of them who had flown in WWI. The group met at Marta, an Italian restaurant located at 75 Washington Place in Greenwich Village. Steve brought a guest artist who recorded the Quiet Birdmen. The article and sketch appeared on February 21st in his byline column "This Little World" that was carried by NEA news services. The following picture is a reprint from the original article.[1]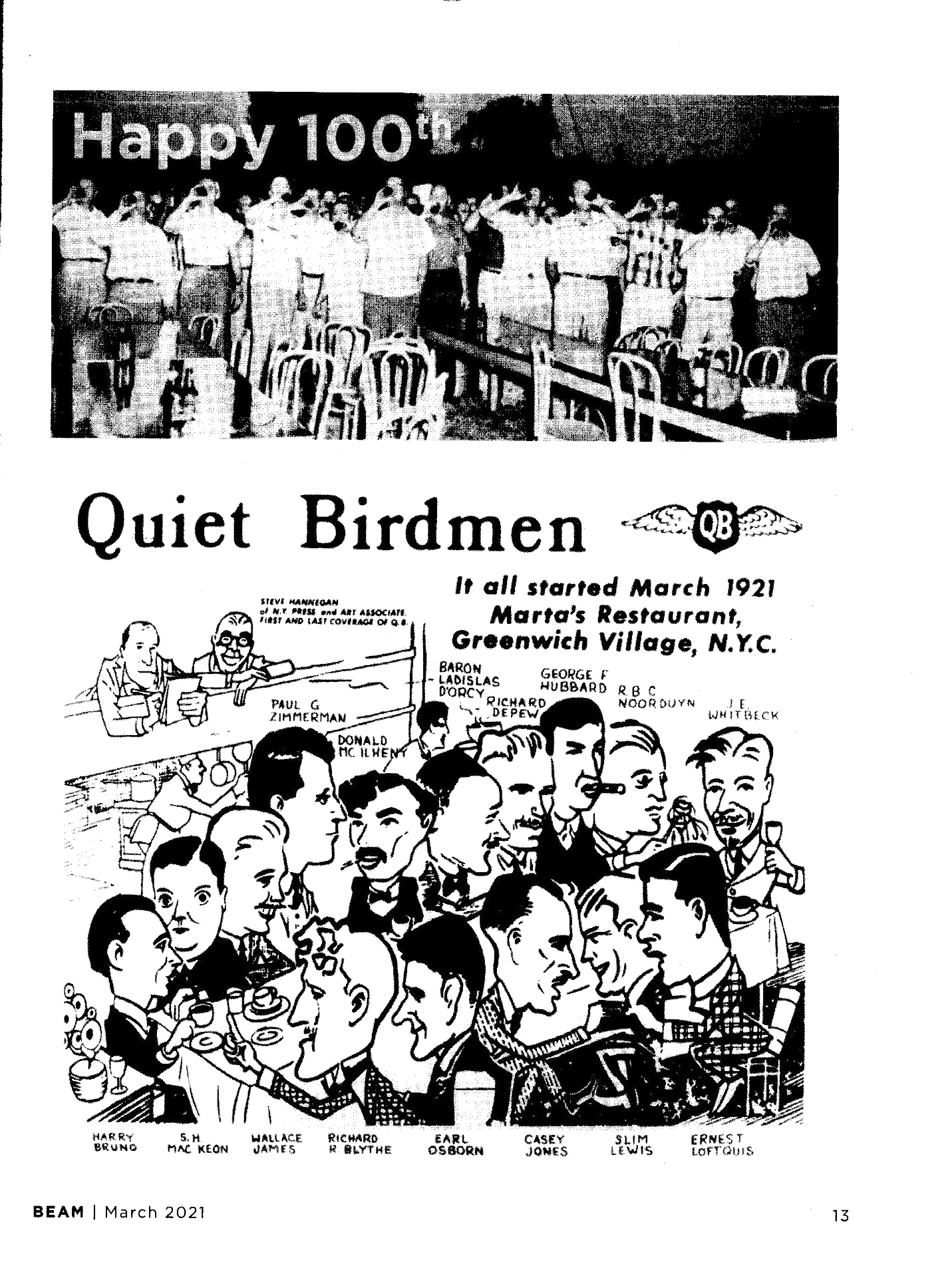 Aviators included in the picture are: Harry Bruno, S. H. MacKeon, Wallace James, Richard R. "Dick" Blythe, Earle D. Osborn, Charles S. "Casey" Jones, Harold T. "Slim" Lewis, Ernest Loftquis, Paul G. Zimmerman, Donald Mcllhenny, Ladislas d'Orcy, Richard H. DePew Jr., George Hubbard, R. B. C. Noorduyn, and J. E. Whitbeck.
When the Quiet Birdmen grew too large (or perhaps because the noise bothered other patrons) Marta prohibited any further meetings at the restaurant. Subsequent meetings were held in a different location each time at a restaurant.
The Quiet Birdmen originated in France in November 1919, when a group of World War I aviators started a drinking club called "The American Flying Club". After returning to America, they reconvened in New York City, only to be barred from their first clubhouse by the bailiff. In January 1921, between ten to twenty aviators began meeting fairly regularly on Monday nights in New York City at the Marta restaurant.
Harold Hersey, the editor of Aces High magazine, ironically called the group The Quiet Birdmen as a wisecrack about their boisterous meetings. The cost of a lifetime membership in the 1920s was one dollar. In the 1920s the emblem of the club was created – a blue shield with the letters QB in silver, the shield being flanked by silver wings. "In 1938, the club's meetings settled into the building owned by the Architectural League of New York."[2]
Hannagan's attendance at one of the meetings may not have been an accident. During the prior year he had flown with Captain Eddie Rickenbacker as he toured the country in a 15,000-mile trip to market his new monoplane (See picture below). Rickenbacker named Steve honorary Captain and guaranteed that Steve would not be injured regardless of what happened with the airplane.[3] Rickenbacker's was good for his word, because the plane made four emergency landings, and Hannagan walked away each time.
Steve had met Rickenbacker at the Indianapolis Motor Speedway, and they became fast friends. Later, Hannagan would be Rickenbacker's best man and Rickenbacker would be the executor of Hannagan's will after his death in 1953.
"From the left – Lloyd Bertrand, a prominent flyer; Belvin Maynard, called the 'Flying Parson'; Eddie Rickenbacker; Eddie Stinson, his co-pilot; and Steve Hannagan."[4]
Endnotes
https://stevehannagan.com/wp-content/uploads/2022/03/word-image.png
1906
1431
miket
http://stevehannagan.com/wp-content/uploads/2017/04/steve_getty-300x207.png
miket
2022-03-31 21:23:09
2022-04-01 21:18:44
Steve Hannagan at the founding of the Quiet Birdmen