In this issue, Steve brings Hollywood producers and stars to the Indianapolis Motor Speedway. The Indianapolis 500 race was a magnet for celebrities from New York and Hollywood. Either they wanted to run in the race; or be seen at the race; or they were in a movie with the Speedway as a setting.
Jack Warner's Indianapolis Motor Speedway
In 1939, Steve Hannagan convinced Jack Warner at Warner Brothers to produce Indianapolis Speedway starring Pat O'Brien, Ann Sheridan (Steve's future girlfriend), and John Payne, a rising star in Hollywood.
The plot of Warner's movie was the conflict between father and son and the dangers of racing. The main character was Joe, played by O'Brien, was a three-time winner of the Indianapolis 500. Despite his unprecedented success at the Speedway, Joe continued to race to put his son, Eddie, through college only to discover that Eddie had quit college to go into racing.
Although Eddie's decision enraged Joe, he works with his son to improve his driving skills. As happens in many movies between two men, a girl, in this case a "bad girl", named Frankie, played by Ann Sheridan, came between them.
Eventually, Joe's age eroded his driving skills, and he killed another driver. The remainder of the movie dealt with Joe wandering the country until he made his way to Indianapolis on Race Day. There, Joe found his son driving one of the lead car in the race. i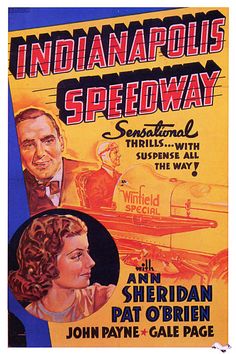 Poster from the 1939 movie, Indianapolis Speedwayii
Lloyd Bacon directed the movie that was based on a story by Howard Hawks, with associate producers, Max Siegel and Hal Wallis. Howard Hawks and Hal Wallis gave the movie some weight. Nevertheless, movie critics considered the plot threadbare; yet solid acting strengthened its appeal.iii Hannagan believed that Hollywood and the Indianapolis 500 fit each other well because both were fan driven spectacles.
Other Movies during Steve Hannagan's Stint at the Indianapolis Motor Speedway
There were other Hollywood movies besides Indianapolis Speedway made about the Race during Steve's tenure as Head of Publicity for the Track. While Steve played a significant role in convincing Jack Warner to do the Speedway movie, it is not difficult to imagine that Steve was also involved in other movies made in the 1930s about the Indianapolis 500.
The Crowd Roars (1932)iv
The plot of this movie was similar to the plot of the Indianapolis Speedway. The difference was that the conflict was between two brothers instead of a father and a son. Billy Arnold, who won the Indianapolis 500 in 1930, advised the filming of the race scenes.v
The lead actor was James Cagney, of Irish descent like Pat O'Brien. Steve would have had a soft spot in his heart for both actors, because Steve always wore his Irish heritage on his sleeve.
A side note about the filming of the movie by Howard Hawks; Hawks "shot so much footage that Lloyd Bacon used some in his film, Indianapolis Speedway.vi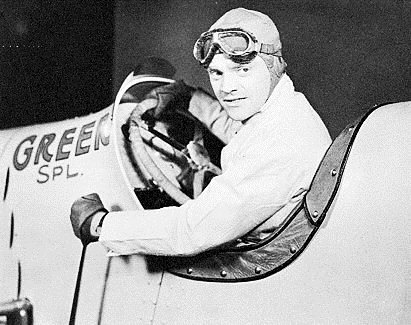 Publicity Picture of James Cagney from The Crowd Roars in 1932
Speed (1936)vii
Speed was Jimmy Stewart's first starring role. The movie takes its story from an actual historical event – Malcolm Campbell's run for the world speed record at the Bonneville Salt Flats in 1935. The story eventually wends its way to the Indianapolis 500 where the movie gravitates to 'guy gets woman' theme. This was not one of Stewart's great movies.
Movie Poster from Speedviii
Pop Myers Tweaks Steve and His Celebrities
According to Donald Davidson, who is the Indianapolis Motor Speedway historian, Steve Hannagan made the mistake of taking Pop Myers, General Manager for the Speedway, for granted.
One year, Pop Myers pulled a fast one on Steve when his office called for front row seats for Steve and a gaggle of celebrities from New York. By this time, Steve was spending much less time at the track because he had assigned his top assistant Joe Copps to be at the Track during April and May. For Pop Myers and track management, Steve was now just another pain-in-the-neck celebrity.
Myers told Steve's Executive Assistant, Margaret Ray that they were too late and nothing was available, but he could come the day of the race to see what Myers could do for him. Of course, upon arrival, Steve found his usual seats waiting for him.
Everyone was satisfied, Steve had his tickets and saved face with his friends, and Pop Myers and the staff pulled a good one on him
END NOTES
https://stevehannagan.com/wp-content/uploads/2017/04/Speed_-_1936-_Posterpreview.jpg
450
450
miket
http://stevehannagan.com/wp-content/uploads/2017/04/steve_getty-300x207.png
miket
2017-04-17 15:25:19
2018-07-24 12:13:49
Hollywood and the Indianapolis 500