When Steve Hannagan left Lafayette, the Journal & Courier reported that he was going to Indianapolis to take a job at the Russel Seeds Advertising Agency. Russel Seeds ran a well-respected advertising firm in Indianapolis.
Russell Seedsi
Russell Seeds came into advertising by way of his political career in Indiana Republican politics in the nineteenth century and as the City Editor of the Indianapolis Star. He like many presidents of small companies of the era did not brook mistakes or shoddy work. Steve Hannagan not only survived stern supervision, and Seeds showed his appreciation of Steve's work by trusting him with greater responsibilities.
Even though Steve wanted to stay at the Star, the Russel Seeds Agency offered the chance to make more money. Russel Seeds was a well-respected marketing agency for auto and auto parts manufacturers (see the nearby advertisement for National Motor Vehicle Company).ii Seeds 'clients included Stutz Motor Company, National Motor Vehicle Company, and other major automobile companies in Indianapolis. While the Seeds Agency clients were located in Indianapolis, their advertisements were published in national magazines. The Stutz endorsement campaign discussed later is an example of how Seeds put together a national campaign.
When Steve was offered the job at Seeds, he asked his friend Tom Johnston back at Purdue for advice. Tom recommended that Steve take the roll of the dice and go with the new job.iii Steve decided to take the job with Seeds to parlay the advertising work and to learn how a former city editor operated at a major newspaper.
Initially, Steve found the work at Seeds boring. He gave up the thrill of reporting on sports to write advertising copy about cough syrup and Chinese tonics for improving egg production. Nevertheless, within a short time Russel Seeds was sufficiently impressed with Steve's work that he assigned Steve to the Stutz account and then to the Indianapolis Motor Speedway to devise a new publicity campaign. (A later issue will recount Steve Hannagan's experience at the Speedway.)
Stutz Bearcat Account
The Stutz Bearcat admired for its elegant styling and reliability. (See accompanying picture of a 1921 Stutziv) Stutz's were not mass produced like Ford's Model T. The Stutz like many sports cars of the era were handmade and often customized for each customer.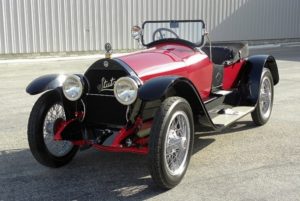 The Stutz Bearcat was a snazzy roadster weighing more than two tons, powered by a four cylinder engine that had a top speed of eighty miles per hour.v A later version of the Super Bearcat built in the early 1930s had a top speed of one hundred miles per hour.vi
Steve Hannagan drove a Stutz, but it is not clear whether he owned the car or whether he was assigned the car to promote. There are pictures of him visiting his friends and relatives and showing off his Stutz.
Russel Seeds sent Steve to Hollywood to solicit an endorsement of the Stutz Bearcat from Wallace Reid. Reid was a major star whose films included "Birth of a Nation," and major films of daring do. Seeds believed that men wanting to emulate Reed by buying a Stutz, despite the fact that 99% of American working men could not afford the car. The plan was to place Reid's endorsements in national magazines and Photoplay, a popular magazine about Hollywood. Photoplay was an unusual magazine to reach a males because its target audience were women.
Steve faced two challenges before he could ask Reid to do a publicity photo shot for the Stutz. First, Steve had no cache in Hollywood and second he was from Indianapolis of all places. Even Steve's unabashed personality was not enough to open doors. So Steve quickly turned to James Quirk of Photoplay, his Speedway friend to gain entrée to Reid. Quirk told Steve that Adela Rogers St. Johns, his western editor for Photoplay, could reach Reid.
Adela Rogers St. Johnvii
Adela Rogers St. John like Steve was young, but unlike Steve, she already was a recognized figure in Hollywood because of her Hollywood interviews, screen plays, books, and her peevish sense of humor. One of her most famous sayings about Hollywood and life in general was; "I just want to live long enough to see how it all turns out."viii
Adela grew up in Hollywood and knew everyone worth knowing in Tinseltown. Even better, Adela was godmother of Reid's son. Steve's soon charmed Adela into introducing him to Reid. Not only did she make thee introduction, she persuaded Reid to endorse the Stutz.ix Steve' owed Adela big time for doing his heavy lifting in his first major assignment outside of Indianapolis. Though, Adela was not particularly happy about promoting his career. Yet, as time passed, Adela and Steve became good friends. They kept each other in the loop about the latest gossip in Hollywood and New York, after Steve moved there in the 1930s.
Wallace Reid Manic Star and 'Wanna Be' Indianapolis Driver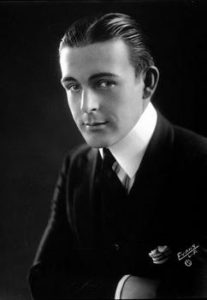 Reidx showed his appreciation for the Bearcat that Steve delivered to him from Stutz Motor Company by introducing him to the hard-drinking, fast-living world of Hollywood. Steve was enthralled by the movie stars, directors and moguls that he met. While Steve was in Hollywood, he squired around town several of Mack Sennett beauties. It was not long before Steve would have his own 'bathing beauties' to promote Miami Beach. In addition, Steve would return to Hollywood to work some of the same moguls and directors to promote Coca-Cola.
Twenty-year old Steve was cautious about partying with his new found Hollywood friends. He soon grasped that he was little more than a "little brother to the rich". Steve's ambition was not to match drink for drink with the celebrities. Rather, he wanted to protect his most important goal – climbing the ladder of success. Getting dead drunk had propelled many a press agent into the gutters. The good news for Steve is that Reid posed for the pictures that Seeds wanted.
Several of Mack Sennett's Bathing Beautiesxi
Reid – Fancies Himself as Indy 500 Driver
Steve had something that Reid wanted more than a Stutz; he wanted to drive in the Indianapolis 500. Reid was not a neophyte in running fast cars. He was a respected amateur, a forerunner of Paul Newman and Steve McQueen. He soon turned one of Steve tools for getting what he wanted. Reid became a daily caller, pleading with Steve to get him in the race.
When Steve returned to his office at Seeds, he had a call waiting for him from Reid. Reid said that he was ready to buy a car and enter the race. Immediately after hanging up, Steve called Adela asking for her help. He moaned, "I can't say to Wally, "We don't want you," But he's not a professional driver. He's a Hollywood Star."xii
Although Steve knew that Reid lacked the skills to race in the premier sports car race in America, Reid saw himself differently. He firmly believed that he had sufficient training because he had driven at breakneck speeds around Dead Man's curve at the Santa Monica Race Track for the movie, Roaring Road.xiii Steve knew differently because an Indianapolis driver had to do more that run fast without competition. In his mind, Steve could see Reid killing himself bequeathing Steve with a horrendous public relations fiasco. Fearing the death of a famous movie star, Steve turned to resolving the conundrum of putting the kibosh on Reid's desire without upsetting his ego.
Steve turned once more to Adela to find a way to convince Reid to back off his pursuit of entering the big race. Steve wanted to avoid being the bad guy because Reid had willingly done the endorsement for Stutz and befriended this greenhorn from Lafayette. Adela told Steve that she had no good ideas on what to do.xiv Nevertheless, Adela, once more helped Steve by calling Reid's and asking for her help in putting the kibosh on Reid's deluded fantasy. His wife agreed because she thought Reid's dream was reckless. She begged him to no avail not to drive in the 500, but he ignored his wife. Mrs. Reid next hauled out the heavy wood and met with the head of the studio. She pointed out that Reid's contract did not allow him to take unnecessary risks.xv The studio agreed to step-in and told Reid's that he could not pursue his dream. He never knew that Steve was involved.
Within two years, Reid was dead; dying from alcoholism and morphine addiction. Ironically, Reid addiction to morphine happened after a train-car accident during the filming of "Valley of the Giants." He died in a rehabilitation center in 1923.xvi The endorsement ads for Stutz were barely dry before he was gone.
The Stutz campaign pleased Russell Seeds who gave Steve his biggest opportunity – working at the Indianapolis Motor Speedway. The tale of Steve Hannagan and the Speedway is wrapped up in the personality and history of Carl Fisher, America's premier entrepreneur and marketing madman of the early twentieth century
END NOTES
https://stevehannagan.com/wp-content/uploads/2017/04/kingofspeedway.jpg
600
600
miket
http://stevehannagan.com/wp-content/uploads/2017/04/steve_getty-300x207.png
miket
2017-04-17 11:36:57
2018-07-24 09:57:41
Russel Seeds - Advertising Firm for Indy's Famous Automobiles!